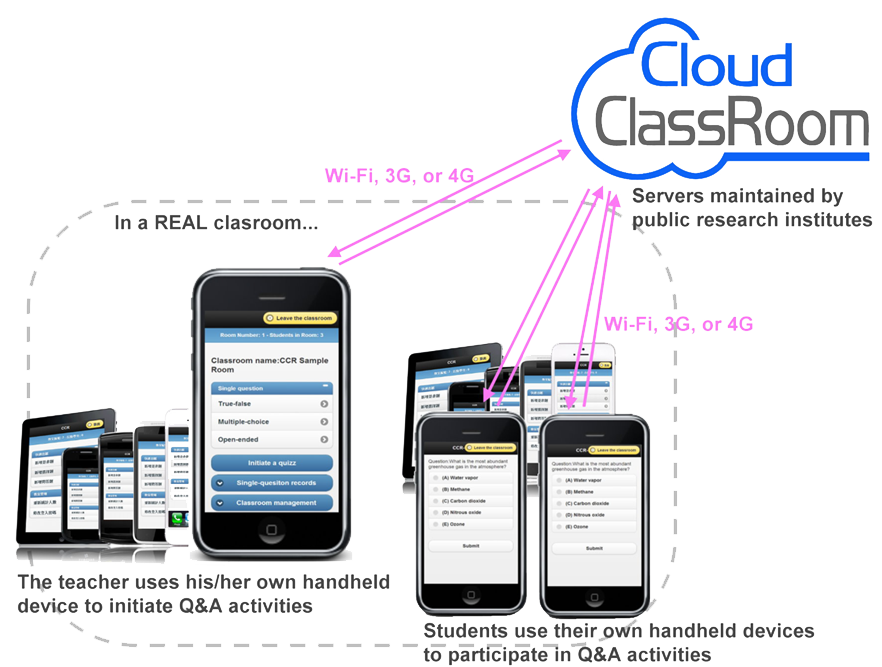 A New-Generation Instant Response System to Facilitate SLIM Teaching
Instant response system (IRS) is regarded as a useful tool to reform classroom learning because that 1) it can nurtures a sense of classroom participation and thus makes students feel accountable to the academic task exercised in the class; and that 2) the real-time data collected by clickers can assist teachers in tailoring feedback to address students' difficulties just in time. However, to deploy instant response systems into every classroom, schools have to invest a lot of money for buying or renting hardware. Furthermore, the distribution and safekeeping of instant response systems in the classroom are not easy for teachers. Prof. Chun-Yen Chang's research team has therefore developed CloudClassRoom (CCR), a web-based instant response system, to solve the aforementioned difficulties in a lower-cost way. CCR is written in HTML 5.0 and works on every Internet-capable device without further software or plug-ins installation. Therefore, CCR enables teachers and students interact with each other by using their own devices, such as PCs, laptops, PDAs, smartphones, or tablets. CCR has several features that are more advanced than the conventional instant response system, including text response, multimedia presentation, instant group formation, and teacher-student role swapping.

-Over 23,000 students and teachers have registered in CCR.
-Over 220,000 classrooms have been established on CCR.
-Over 10000 Q&A activities have been conducted by using CCR.
-5 different language versions of CCR have been released.
-Our pilot study suggests that CCR is a great tool to enhance the quality of students' argumentation.
-An analytic framework has been established to reveal how students frame CCR-integrated activities (e.g., sense-making activity vs. answer-making activity).
Official website: https://www.ccr.tw/